Aug-2013
Saturday, 10 August 2013 | Admin
So during August we mainly have the pleasure of working at home in Cornwall, makes a change with June and July mainly away working on festivals.
We also have the Eden summer evenings run of audio hire up until Sept, a great family day out with music and food to end the day. Always a favourite for the SPS crew with an early de-rig before dark sets in.

60 mtrs of our Front of Stage Pit Barrier was installed at Leopallooza festival in Bude. This was our first visit to this event and we look forward working with this growing festival in the future.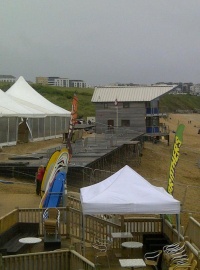 This year were back at the Boardmasters Festival in Newquay supplying audio for the Beach Sessions, skate ramp and the beach surfing commentary system. Audio distribution is achieved using our A&H IDr8 and Ilive 144 IDr racks and using cat5 cable over the length of the beach to cope with the changing needs of the event coverage and commentating positions moving with the tide.

We also had 200 sheets of steeldeck down at fistral beach with the large bar veranda built using steeldeck and the skate ramp sitting on 75 sheets of deck. We built 140 sheets on the 1st day on the beach so that the marquee build could be started later that day, not bad going for a handfull of sound engineers.
The Fistral Beach Boardmasters Village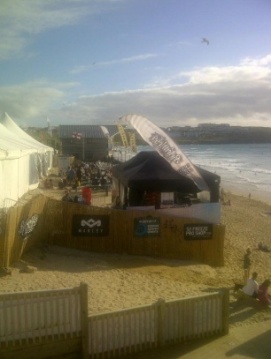 The Steeldeck Bar Veranda

Meanwhile up at the Boardmasters Festival site we have another 190 sheets of steel and litedeck for stages and rolling risers. Roll on September.